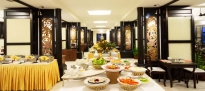 Sokha Beach Resort is a 3-hour, 30-minute drive to Phnom Penh International Airport. From there, it is a 25-minute flight to Siem Reap.
xing massage in private treatment rooms, while a hot tub and steam bath offers relaxation. Health conscious guests can exercise at the gym or play water sports by the beach.
Dining options include international cuisine and tapas at The Deck, Japanese food at Lemongrass, Asian dishes at Turmeric and buffet spreads at The Lotus Restaurant. Drinks can be enjoyed at any of the resort's 5 bars.
Jasmine Spa provides rela