Sokha Hotel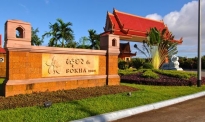 Siem Reap Province – Sokha Hotels & Resorts, Cambodia's leading Hospitality Company, today announced that Ministry of Tourism, Cambodia has bestowed its coveted Five-Star rating to Sokha Siem Reap Resort & Convention Center. Since the hotel's opening on 14th September 2016, it has carried forward its service principles in offering legendary service, which has been repeatedly affirmed by the multiple awards received by the resort.
Sokha Siem Reap Resort & Convention Center has been appointed as the dominating Resort & Convention Center for significant events coming from around the world, including the recent Asian Parliamentary Assembly Conference, ASEAN-RUSSIA Youth Submit and ASEAN-CHINA Cultural Exchange just to name a few and has once again completed a statement of predominance of Sokha.
Welcome to Lux Riverside Hotel & ApartmentLux Riverside Hotel & Apartment offers comfortable and elegant accommodation for your pleasant stay. The ideal hotel in Phnom Penh, located in the heart of the vibrant and most touristic street Sisowath Quay along the riverside of Ton...
Sokha Beach Resort is a 3-hour, 30-minute drive to Phnom Penh International Airport. From there, it is a 25-minute flight to Siem Reap.
Stay in the heart of Phnom Penh – Great location - show mapCardamom Hotel & Apartment is 1 km from Phnom Penh's Central Market. The hotel offers free Wi-Fi, a restaurant and bar. Guests can expect polite, helpful and friendly staff.Rooms are air conditioned and come w...
Fitted with wooden flooring, air-conditioned rooms are equipped with a flat-screen cable TV, minibar and personal safe. En suite bathrooms come with separate shower cubicles and bathtubs.
Stay in the heart of Phnom Penh – Show map Good value for couples. They rate the value for money 8 for two-person stays.Located along the banks of the Tonle Sap River, River Palace Hotel offers accommodation in Phnom Penh. Hamam Spa features relaxing body massag...